If you like scrolling through channels like ABC, CNN, and HBO, you now have more than one option to watch your favorite channels with more variety at your fingertips. You can stick with either the conventional Cable TV or satellite TV as they had been around for decades now. Otherwise, you have various alternatives now that live stream TV channels online. In either case, you can watch whatever you want, Live TV, the latest shows, the super bowl, or your favorite sitcom airing right away. 
Contrary to that, other popular live streaming services including Netflix are not technically channels or compilations of channel line-ups. Instead, they are digital libraries of movies and TV shows at your disposal. 
Cable TV vs Streaming Live TV 
The consumers have religiously hated their cable companies that if we ask what was the reason behind the rise of cable TV usage we cannot guess. However, we can be certain about the fact that there are some Cable TV providers giving quality services at reasonable prices. Cable TV connection with a channel lineup as good as Spectrum channels that allows you access to hundreds of top-notch shows twenty-four seven without having to wait for anything. If we compare, with cable TV you do not have to face buffering or loading issues due to the bandwidth restrictions as it is with Live TV streaming or rely on an uncooperative Wi-Fi connection.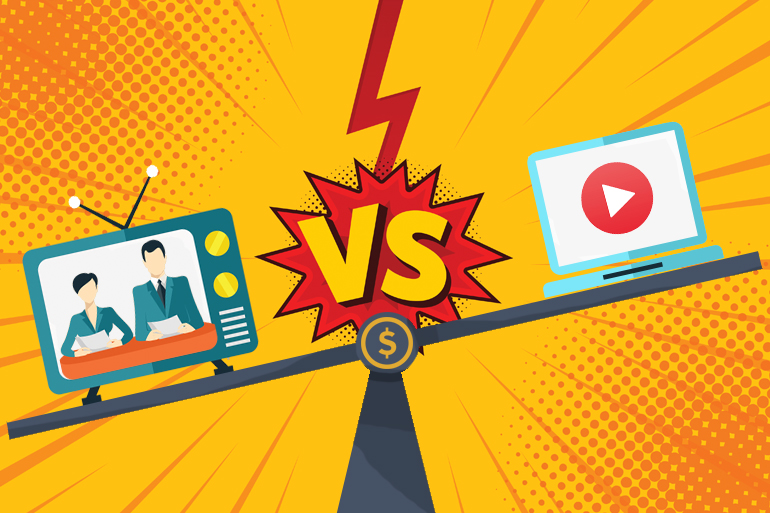 Enlisting here are a few reasons why some people would want to reconsider their decision of keeping a conventional cable TV package: 
The familiarity and convenience–
before we consider any other factor the very predictable one when we buy a cable TV connection is bundling it up with our internet connection or home phone from the same provider. Most of the people just request their already existing telecom provider to give them this service as well. By doing this, they get the convenience of paying one bill to the same provider for multiple services which saves their time and energy along with the familiarity factor where they have all the numbers, information, and a brief idea of the plans too. 
Economical packages –
Companies are now focusing on providing cheaper services to their consumers and making plans that are reduced to essentials. The economical packages are designed to compete with all the cable alternative services on the market. Cox, for instance, offers a plan that costs $35 a month, whereas, Charter came up with a monthly plan called Spectrum Select Plan which offers 125 channels for $45 a month. All the economical prices are competing against Live TV Streaming plans that usually fall between $40 and $50 monthly charges. 
Better cable box:
Heavy, conventional, cable TV boxes are becoming an old and gone thing now. Various major companies now give next-generation set-top boxes with the latest interface and supporting features to suit the modern TV sets including 4k with HDR (High Dynamic Range) quality. Providers are now offering apps so their consumers can watch whatever they want whenever it is convenient for them, the same as YouTube or Netflix services. New cable boxes are now capable of taking voice commands from Google Assistant or Amazon Alexa, so one can easily search for movies or TV shows or simply change the channel. 
LIVE Streaming TV 
Cable TV consumers have complained about getting the channel line-up. They did not like and to make it worse, some options are not even available in some areas. All the latest cable alternate Live Streaming services are providing a solution to both the issues caused by Cable TV providers. The popular Live TV streaming options on the market offer on average 33 channels to the line-up of 140 plus more. Here is a list of all the right reasons you might consider signing up for a Live Stream TV service. 
Mixed Content At Uwatchfree:
The variety of content lets the viewers enjoy and indulge in the potential of having a wide range of content, which is appropriate for the price. The best part is you can get this changed to another tier of services or switch to another company. Without having to wait for an appointment from the support team of the company. Checkout at uwatchfree. 
Reasonable prices:
According to popular opinion, a marketing research company called e-Marketer also shared. That the cable-replacement options are available at half the price of all the cable TV providers on the market. One can easily sign-up for a starter pack of channels for a minimum price as low as $15 a month. A standard deal of channels where you get 60-70 channels in the lists. That are comprised of local channels and cable TV broadcasts like CNN and HBO are usually available. For $45 to $50 a month, which is low-priced if compared with any fundamental plan. 
Less confusion:
The irksome hidden charges or the ones that usually do not make sense; On the monthly cable TV bill is not something you will find with Live Stream TV services. However, yes, unless you have signed up for any premium service or DVR storage. Which you have to pay back through monthly installments. Nevertheless, these are all optional services, and totally depends on your choice and not imposed or hidden charges. 
Everybody has a different approach and requirement while signing up for any service. I have shared the most prominent yet obvious comparison of both services. As a buyer, you have to figure out which service suits you more and for that. You should research more to get a clearer picture and room for comparison.