PPC services are a revolution in the age of digital marketing, that offers a massive opportunity to businesses in establishing and maintaining an online presence in the market. The main goal of any business is to generate more traffic, spread brand awareness, attract visitors, augment ROI, and increase sales. PPC is the best solution for all this, and it delivers results in the least possible time as compared to other advertising channels.
Pay Per Click or PPC is an online advertising marketing model in which advertisers pay publishers a specific amount each time a specific link is clicked. As the name implies, pay-per-click means you have to pay as soon as you click. PPC requires you to bid on keywords so that advertisers are ranked high in Google search results. Advertising forms the majority of Google's revenue, which was approximately 256.73 billion U.S. dollars in 2021.
Your ad will work in your bidding system, spending more money on your ad and increasing your chances of seeing it.
Pay-per-click or PPC management by experts is the process of managing your PPC advertising strategy and budget to minimize overall costs and maximize profits. You can see the strengths and weaknesses of your business marketing strategies and which areas need improvement and which need to be focused on. PPC management works effectively to direct targeted traffic to your website.
Managing and optimizing your PPC account is imperative because you need to maximize your profits for every cent you spend. PPC management is about complying with all rules and regulations, and various market standards, meeting customer demands, and staying competitive.
What are the ways to improve PPC campaign management?
PPC management is about understanding how your campaign is going and making fine adjustments to get that extra mileage out of your campaign. However, the tactics and campaigns that were in effect last year do not guarantee this year's resonance, so take the time to review your current PPC plans to see where they can be coordinated, improved, addressed, and optimized. The following list of tips will help you.
Professional PPC Management services can help you develop trending keywords and give you suggestions like adding adjectives and adverbs to long-tail keywords, revising short-tail keywords to improve performance, and enhancing the use of descriptive words. You must also check what kind of keywords your competitors are using and how it helps to rank them.
For each ad campaign, review the key metrics you use to measure your ultimate goals, their outcomes, your marketing strategies, and your success. With these goals and metrics in mind, you can focus on optimizing your campaign. If you don't know what you want to achieve, you can't judge the outcome or improve performance. Your objective could be to enhance brand awareness, lead conversion, generate traffic, etc.
Your PPC campaign will be able to:
●
Achieve your digital marketing goals together
●
Streamline multiple campaigns that serve the same purpose
●
Reduce the gap of your digital marketing strategy that can be filled with another campaign
●
Analyze which one of your campaigns is better than another
●
Check for keywords for poorly performing ad groups
If some ad groups aren't performing well, you'll need to check your keywords and restart. In particular, a low click-through rate (CTR) or high bounce rate on your landing page may indicate that your ad is in the wrong place. Check their keywords to see if there is a problem there. Search campaigns perform best when you select search keywords that display ads in front of the right audience.
Keywords tell Google to search for search ads. You can run the keyword search process again and then see how the existing keywords are stacked. This auditing will help you:
.
●
Find search queries that allow these people to express their desires
●
Evaluate which keywords fit your search objectives, have high traffic, and are within your budget
●
Determine which type of match is best for your goal
●
Select the best keywords for your ad group
You must identify the target market and start using an effective keyword search tool. With free tools like Google Keyword Planner, you can get an approximate volume estimate, but it is not very accurate. Facebook ads are used by 62% of local advertisers, which makes it substantial for businesses to invest in local PPC ads to help in enhancing their ROI.
Another option is to use PPC Management services that use estimates and then narrow those estimates to more accurate numbers.
Updating the Negative Keyword List every month is a time-efficient PPC advertising method that directly impacts your advertising cost-effectiveness. It's important to choose the relevant keywords that you want to appear in your ad, but it's just as important to prevent them from appearing in the wrong keywords.
Negative keywords tell Google which searches don't show ads. Keeping your negative keyword list up-to-date can save you money because your ads won't show up in irrelevant searches that don't lead to conversions. You can target negative keywords at both the ad group level and the campaign level.
You can make good use of customer ratings, feedback, reviews, and testimonials in your PPC campaign. You can display your ratings as part of an ad for any product or service. This is a great opportunity to build trust and increase your CTR.
It is important to properly adjust your display ad targeting settings. If your display ad has a relatively low CTR or less than expected impressions, you may have a targeting problem. The main targeting options for display advertising are:
●
Placement targeting: This allows you to choose the platform on which your ad will appear. People are watching more than
450 million
hours of YouTube content on TV screens every day which is a lot of opportunities to place your marketing well through PPC campaigns.
●
Audience Targeting: This allows you to choose who will see your ad based on demographics, location, language, and more.
●
Topic Targeting: Here, you can choose where to show your ads based on the topics covered on your page.
The goal is to expand the network sufficiently to capture all relevant traffic. If your CTR is low, you must add more stringent targeting rules. If you don't get enough traffic, try relaxing your targeting rules.
Check the current demographics of your customers and prospects for which you can rely on a customer relationship management tool. Your data should be consistent with your understanding of the ideal customer persona. You can also adjust your campaign to reach a segment of your poorly serviced audience. Consumer preferences are changing, and you don't want to risk missing potential leads.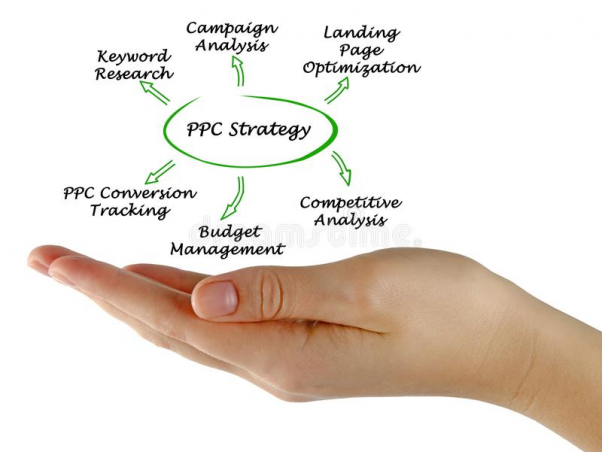 PPC advertising can be enhanced by optimizing CRO – conversion rate optimization to reach your campaign goals. You can use the A / B Testing or split testing, or the multivariate testing technique. Using these strategies, you can:
●
Make changes to your landing page
●
Manage time appropriately per month on your PPC account
●
Determine how long you want your PPC campaign to run
You must avoid all the general parts of the funnel destination. Common targeting contains a wide word, including specific products and services. The key to improving PPC performance is to direct hyper-targeted traffic to your website to achieve conversions at higher rates and lower cost-per-conversion. You must include average CPC and CPA, to have a solid understanding of your audience.
Set a maximum bid which is the highest amount you can pay with a single click and keep experimenting with your bids to find the right spotlight between what you pay and the amount of associated traffic you get. If your high-performing ad group is doing well, you can generate more traffic by increasing your bid so you can get more conversions at similar prices.
If not, you can always undo it. As with the, lowering bids for poorly performing ads can help you modify your settings to reduce the harm when finding the right combination of ad copy, landing page, and targeting.
Using a successful PPC strategy is quintessential in bringing your business up in numbers and it should not just be set up and forgotten. Use techniques like regular testing, updating marketing strategies, analyzing and optimizing PPC campaigns, and of course, referring to professional PPC management services to bring out the best in your business. You will be in a much better position to surpass your competitors and to reach your target audience.