If you want to improve your business and continue to turn a profit, then marketing is essential. However, it can be easy to spend a ton of money on marketing with only subpar results to show for it. This is why you need to know what strategies and tools will allow you to achieve maximum results at the lowest price. To this end, we have prepared a list of 6 fruitful marketing tips for small businesses. 
Build up your website
One of the most important marketing tips for small businesses is that your website is crucial to all your efforts. Oftentimes, the very first encounter of your potential customers with your business will be through your website. And if it does not seem professional and promising enough, it is easy for them to lose faith and therefore interest in your business. Similarly, it is important to have content which can attract and keep your customers interested. An excellent example of this is running a blog. Through it, you have a way to engage your customers and continue to be part of their lives even if your business is something like a moving company, whose services are not required often. Of course, there are plenty of professionals such as Movers Development which can help you with your marketing efforts and better build up your website's appeal.
Work on your social media presence
You can absolutely not forget to work on your presence on social media. It is an extremely useful medium for your marketing efforts and a tool to come in contact with your potential customers. Using it smartly, you can learn more about your customer base and their interests. You can even learn more about marketing if you pay attention to the profiles of successful businesses. Of course, another way social media is useful is as a hub for all your links and service or product catalogues, and even as a place to get reviews. If you share the photos or interesting links from your website, it is possible to capture the attention of viewers and increase your marketing outreach. Many businesses today produce content beyond their products. While unboxing videos of unique packing designs remain popular, snapshots of your company culture, employees, and production process can also attract your audience and bring them closer to your brand.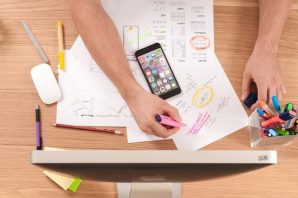 Make use of useful software
While not directly reflected on your marketing strategy, one of the most useful marketing tips for small businesses is to increase the number of useful software in your possession. Let's take Google Analytics for example. It is a software addition to your website which allows you to track the activity of all your visitors. This, in turn, would allow you to better understand the interests and behavior of your customers, and therefore improve the efficiency and effectiveness of your marketing. Google Alerts, SiteChecker, SEO plugins and more are other examples of crucial software which would improve the quality of your marketing immensely. These will almost make it easier to decide between hiring a marketing agency vs DIY marketing, since you will be able to make an educated decision. After all, the data these software would provide you with would be useful in nearly every aspect of running your business.
Push for more citations
In simple terms, local citations are the mentions of a business' data on various sites and apps. Local citations are one of the top business tools at your disposal, since they allow you to gain an immediate visibility boost. Take, for example, Google My Business. Lots of potential customers use the app regularly to check out the businesses in their area. This means that, just by making a profile on the app, you are immensely increasing your outreach. Another great example is Tripadvisor. It is one of the most popular sites to check out citations for all sorts of tourism and food related businesses. The ranking that some of the apps and citation sites offer also massively boost your popularity if you top them. Additionally, each quality citation boosts the reliability of your business and website in the eyes of Google. This then further improves your site's Indexing speed.
Work with other businesses
Cooperation between different businesses has always been one of the best marketing venues available. By this, we do not mean selecting a great marketing agency to work with. What should be your goal is making an alliance of sorts with those businesses who are related to your own. Let us once again take a moving company as an example. A moving company might open cooperation with a storage provider, cleaning or packing services. This way, they can encourage their customers to hire those companies. Consider offering discounts through referrals or a similar scheme to make hiring them more attractive. All the various businesses working together can boost the outreach and visibility of everyone. Since the marketing efforts of one would benefit all. Similarly, such cooperation would include using backlinks to the others' websites. Which would, in turn, boost the credibility and reliability of your own website.
Encourage and use reviews
The final of our marketing tips for small businesses is to always encourage and actually make full use of reviews. Reviews can be an amazing marketing tool. Just by posting the best reviews you had gotten on social media or featuring them on your site, you can boost your credibility in the eyes of your customers. Additionally, there is a lot to be gleaned from proper reviews. Customers tend to share their praise or concerns over the quality of your services. This would let you spot potential problems and areas that need to be worked on. Of course, some reviews might be purposely malicious or simply silly complaints of entitled customers. But they tend to be obvious, and you can disarm their effect by engaging with them in comments. Perhaps by explaining your side of the problem or asking them to clarify what had happened. 
Final comment
Now that you are aware of the 6 fruitful marketing tips for small businesses, you should be able to increase the efficiency of your marketing efforts. Just remember that you need to work on it slowly and steadily, and never to expect immediate results.